The Putnam County School District will be attending the Florida Gators vs. Charlotte 49ers football game at Ben Hill Griffin Stadium on Saturday, September 23rd at 7pm! All faculty, staff, students, friends and family are invited to join and cheer on the Orange & Blue together! Final purchase date is September 22nd. Secure your tickets by following this link:
https://fevo.me/putnam-county-school-district
#ProudtobePCSD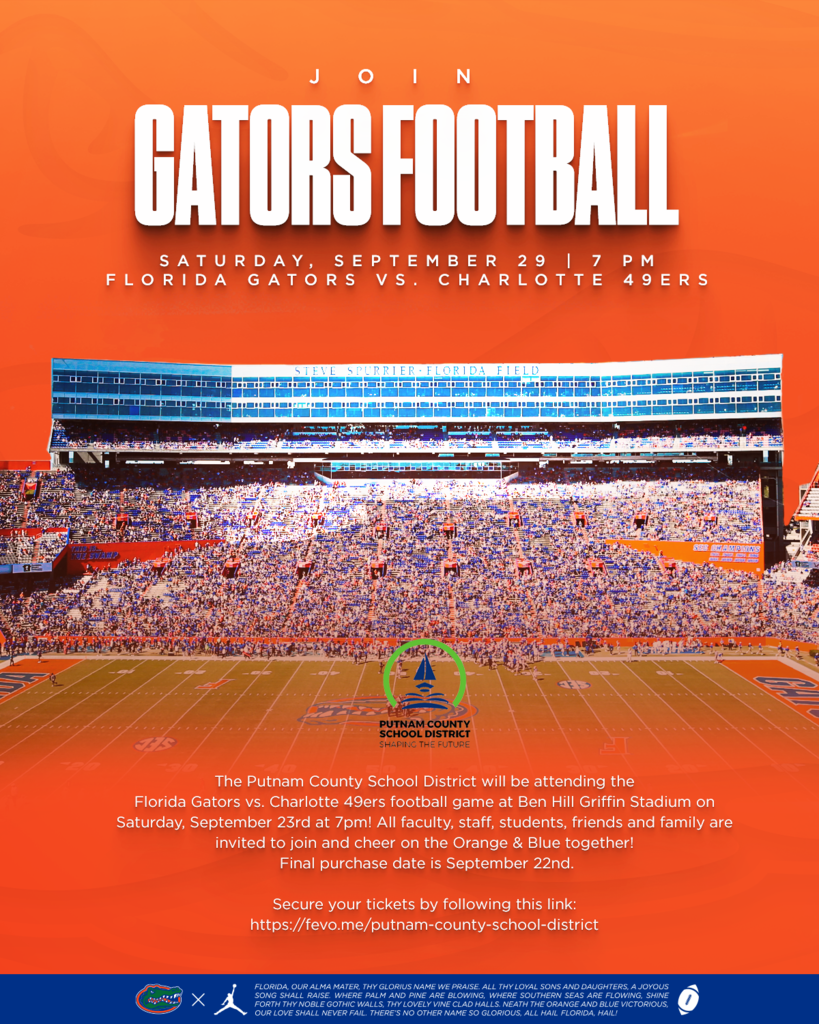 All PCSD schools will be closed on Wednesday, August 30th and Thursday, August 31st. All extracurricular activities are cancelled beginning Tuesday, August 29th. Our plan is to resume all activities on Friday, September 1st. The following shelters will open Tuesday, August 29th ay 5:00PM: Jenkins Elementary (general population), Ochwilla Elementary (pets), Kelley Smith Elementary (special needs only), Browning-Pearce Elementary (general population), Middleton-Burney Elementary (general population). The shelter at QI Roberts will NOT be open at this time. We will continue to update you here with the latest information related to school operations. Please see Putnam County Emergency Management for local updates:
https://main.putnam-fl.com/?page_id=48
.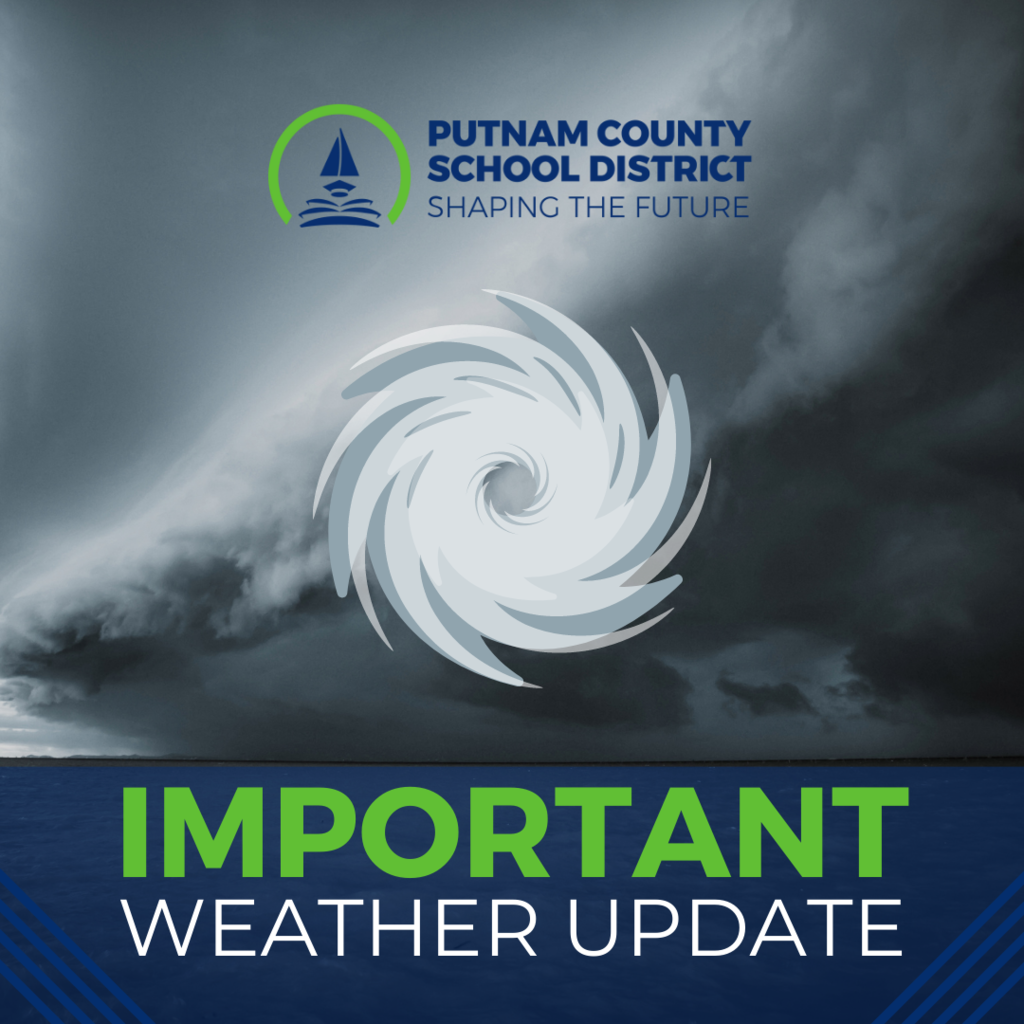 A decision on school closures and shelters will be made by the local emergency operations team later this afternoon. We will update you here with any news and information to assist the community. Thank you!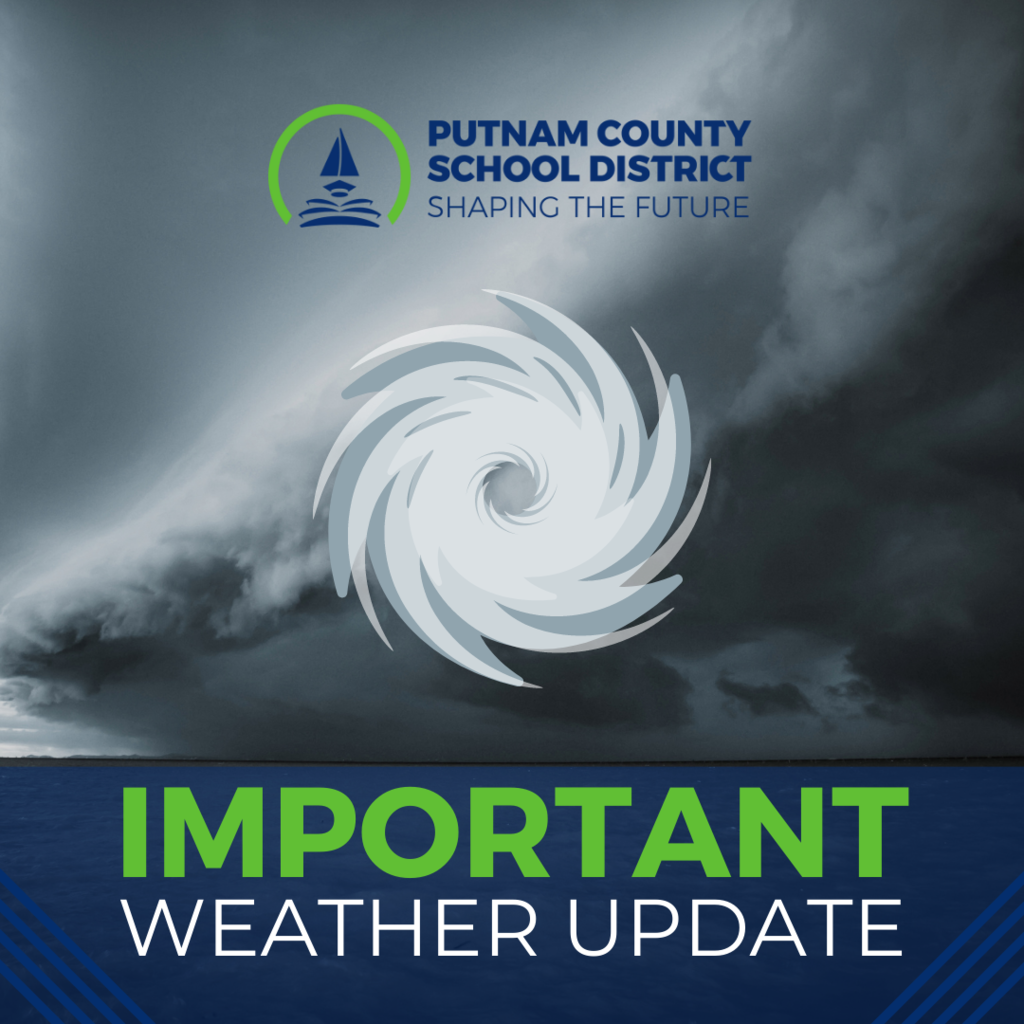 Florida Prepaid Enrollment is now open! Learn more about the most affordable way to save for college with inflation proof prepaid tuition plans by visiting
http://bit.ly/3XySOfM
#ProudtobePCSD #FloridaPrepaid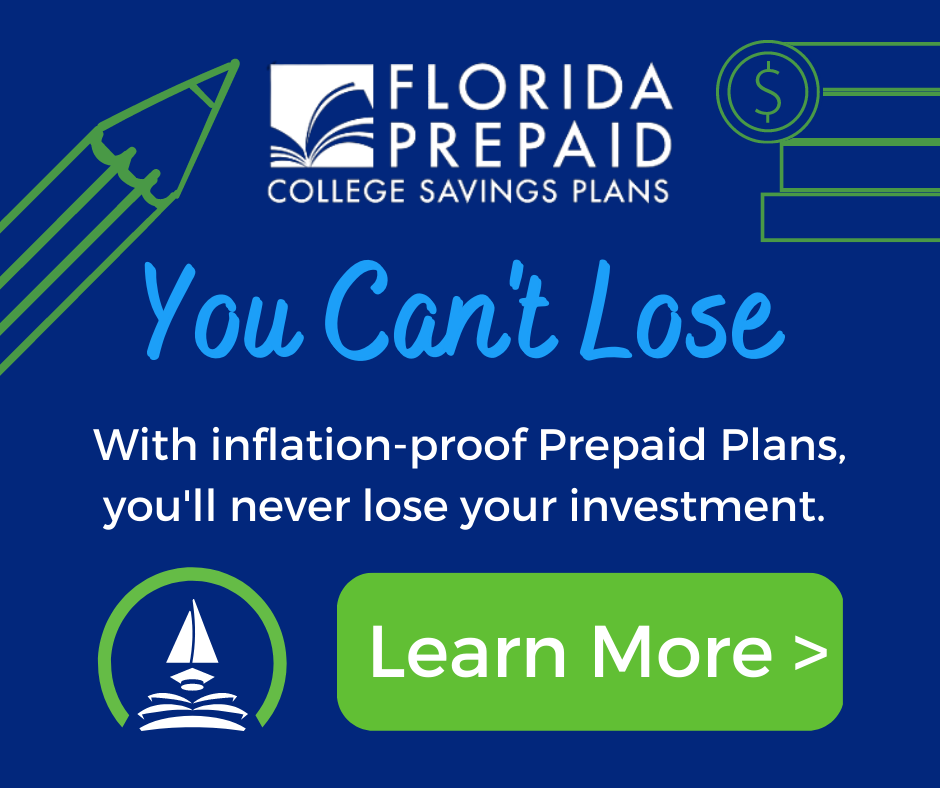 All schools in Putnam County will be closed on Thurs., Nov. 10. All after-school activities and athletics are cancelled at the end of the school day, Wed., Nov. 9. Fri., Nov. 11 is a scheduled holiday for Veterans Day. We expect to have all schools open for students on Mon., Nov. 14. The following shelters will be open for the community beginning Wed., Nov. 9 at 6:00PM: Ochwilla Elementary School, Kelley Smith Elementary School, Browning-Pearce Elementary School, and Middleton-Burney Elementary School. Please follow Putnam County Emergency Management for ongoing information about the storm and shelters at: EOC.Putnam-fl.com. Thank you and stay safe!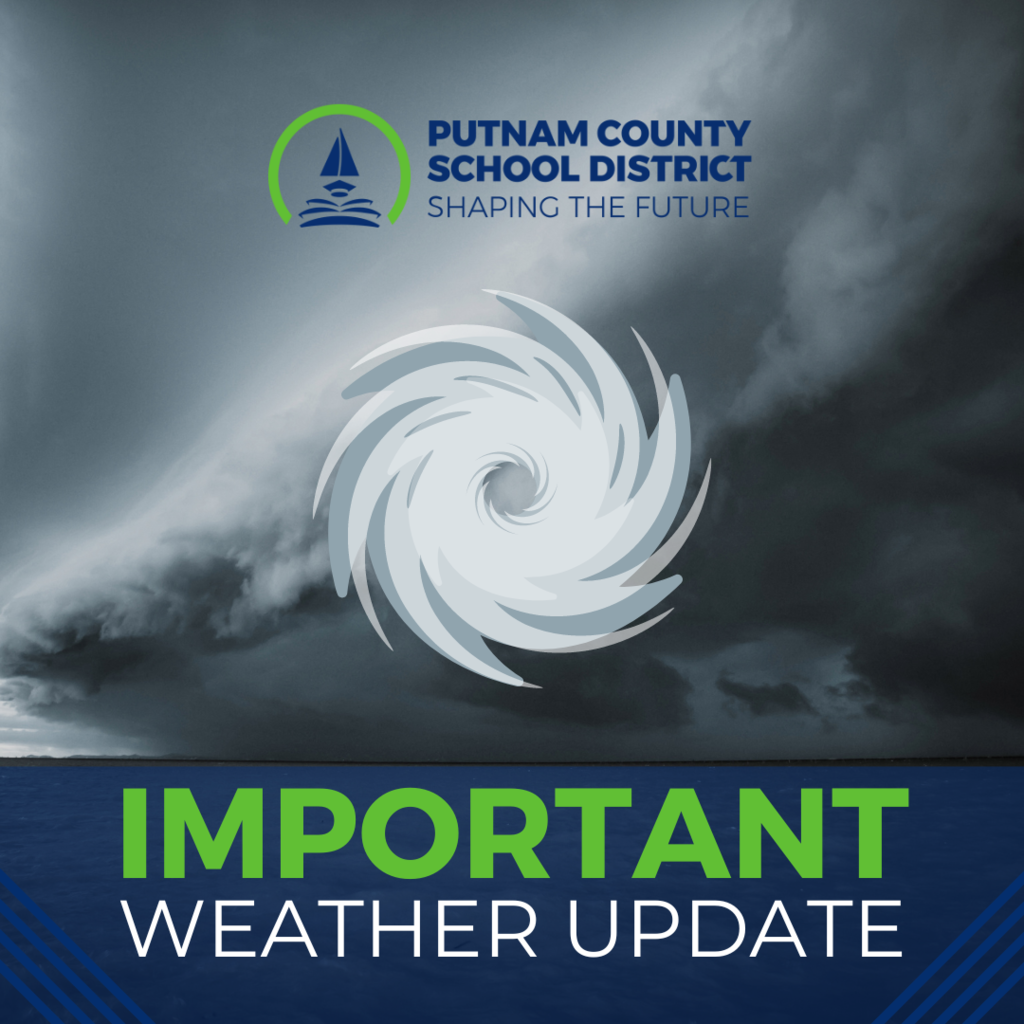 PCSD EXCEL students are assisting with the Spooktacular Community Event at the Ravines on Saturday, October 29th! Students can save by purchasing tickets ahead at Palatka Jr-Sr High School for $4.00.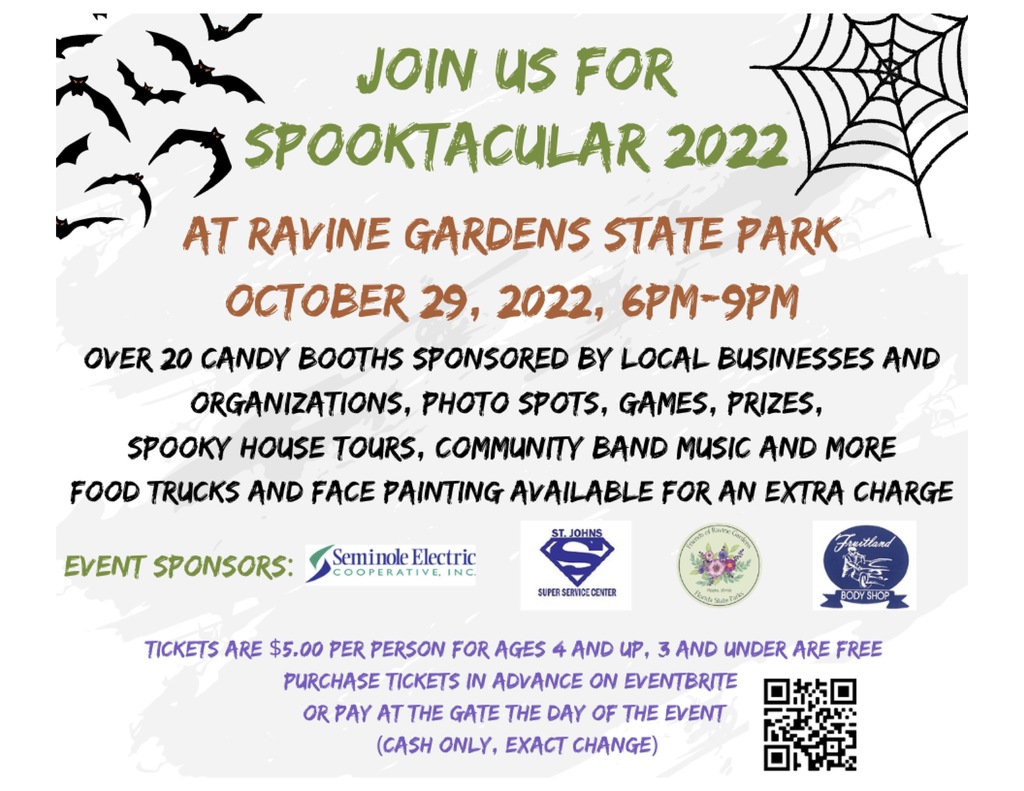 Don't miss the PCSD Robotics Kick-Off for 2022-23 at PJSHS this Saturday from 9:00AM-3:00PM! #ProudtobePCSD

School and all activities resume Monday, October 3rd! Thank you to the PCSD staff for getting our schools ready after Hurricane Ian. #ProudtobePCSD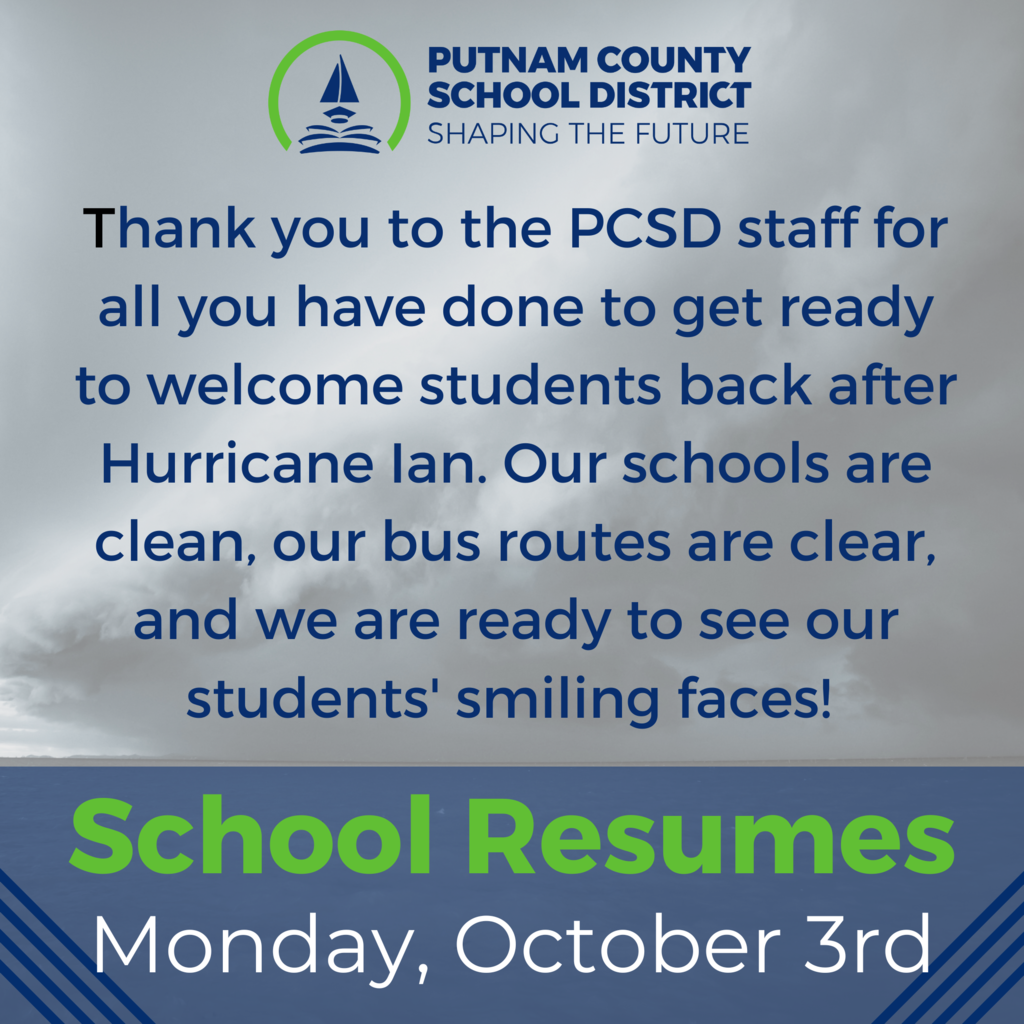 All shelters have been closed at this time, and residents have returned safely to their homes. Thank you to the PCSD staff and volunteers for their support to our community during this time of need. School resumes Monday, October 3rd. Please stay safe throughout the weekend.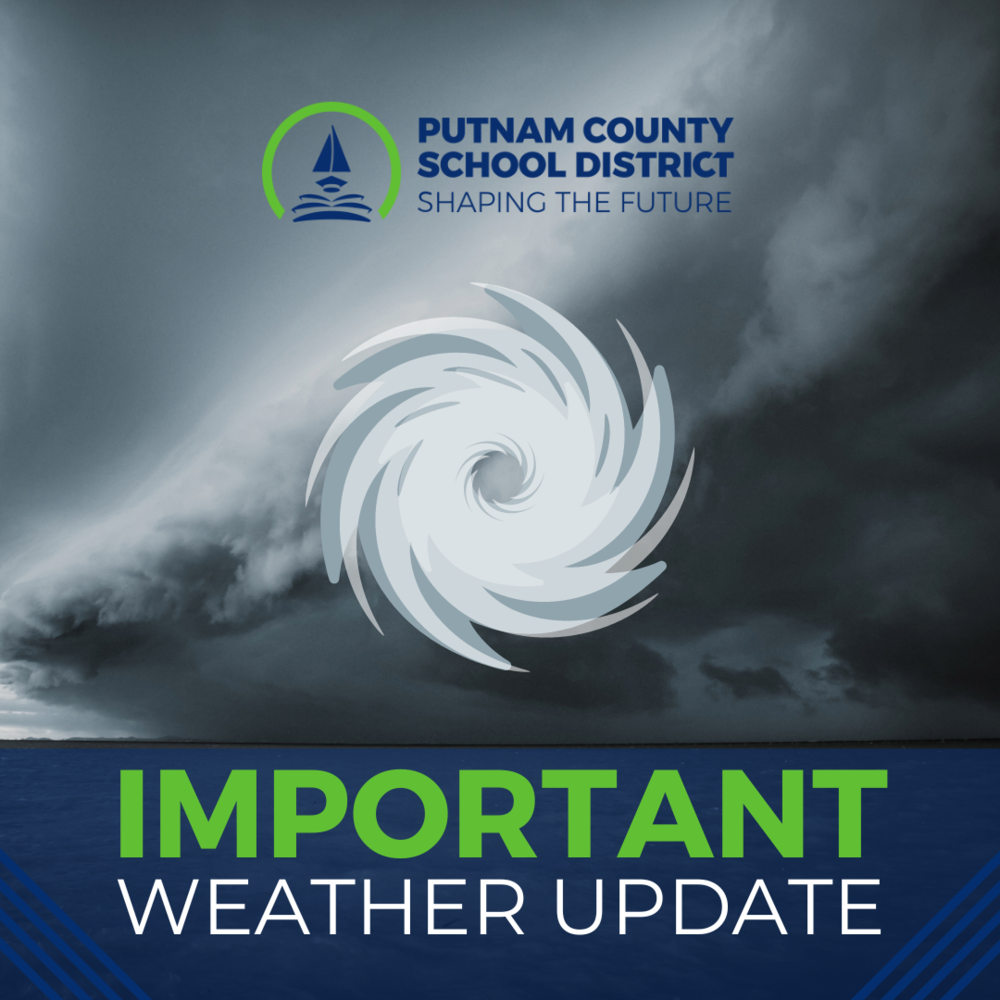 The shelters at Jenkins Elementary School in Interlachen and QI Roberts Jr-Sr High School in Florahome are being closed at this time. Anyone needing shelter services in the west end of Putnam County should go to Ochwilla Elementary School.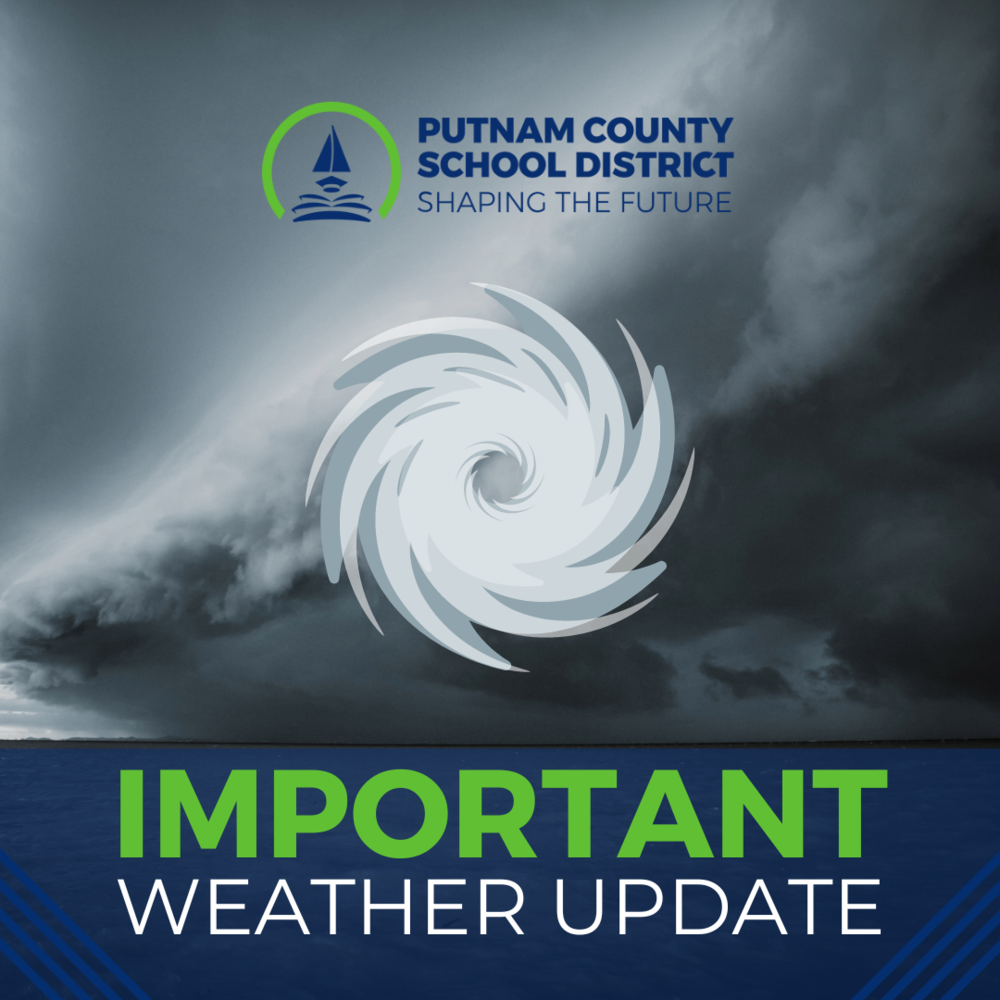 The Florida Heiken Mobile Eyecare Unit will be in Putnam County May 9-13, 2022, offering comprehensive eye exams and glasses to students who qualify. For your child to participate in this NO COST program, please apply online at
www.floridaheiken.org
by April 15, 2022.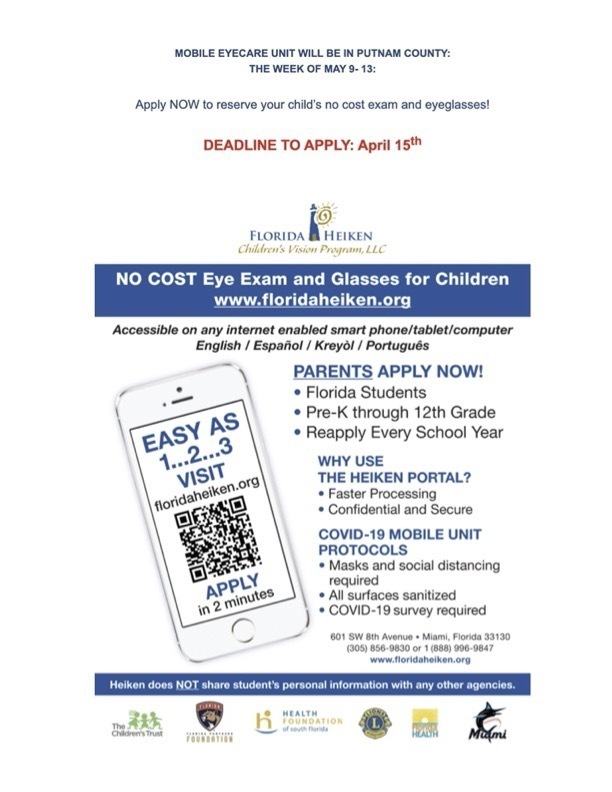 PCSD School Counselors are shaping the futures of our students- we are grateful for their constant dedication to our students and families! #schoolcounselingweek #proudtobePCSD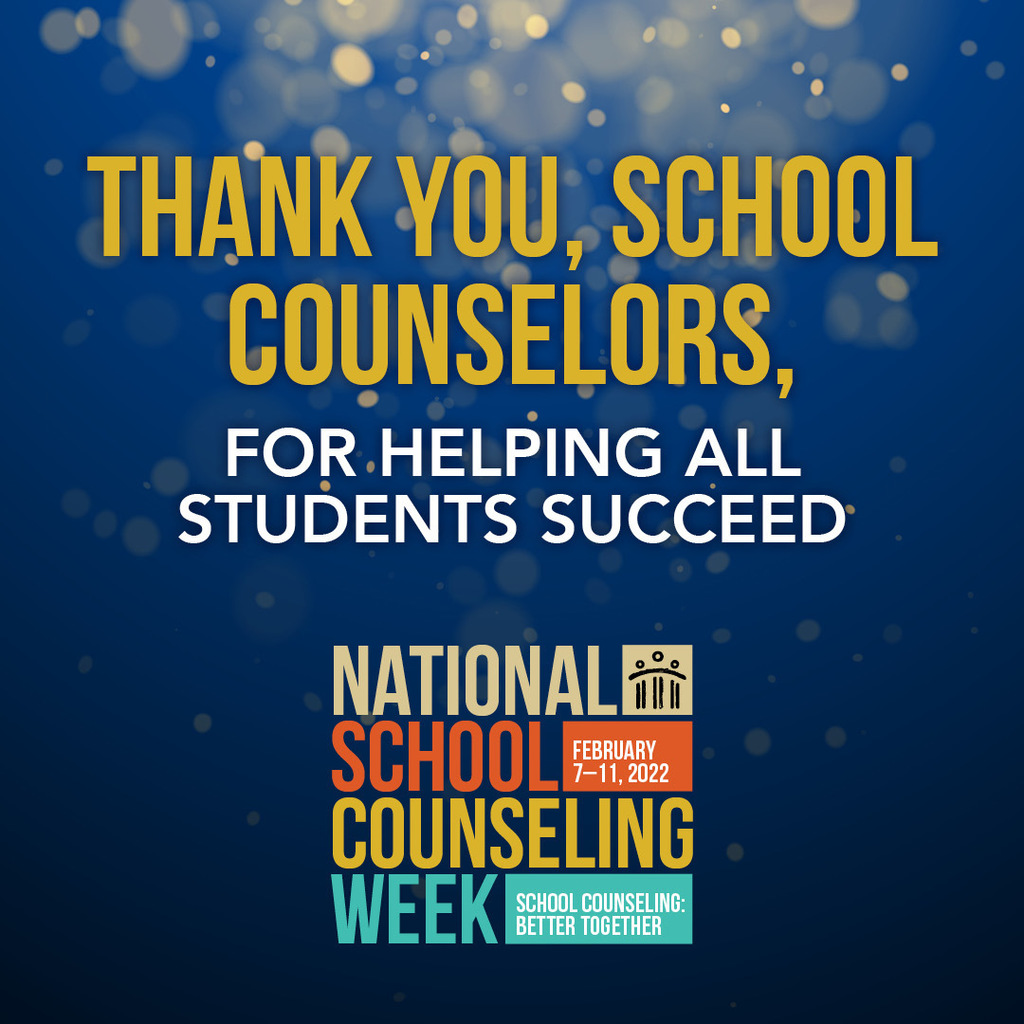 Girl Scouts: Fall Fun with STEM Saturday November 6th from 10 - 12PM at Ravine Gardens State Park Register today:
https://bit.ly/FallFunSTEM
ALL GIRLS K-12 that are residents of Putnam County are welcome! No membership is required.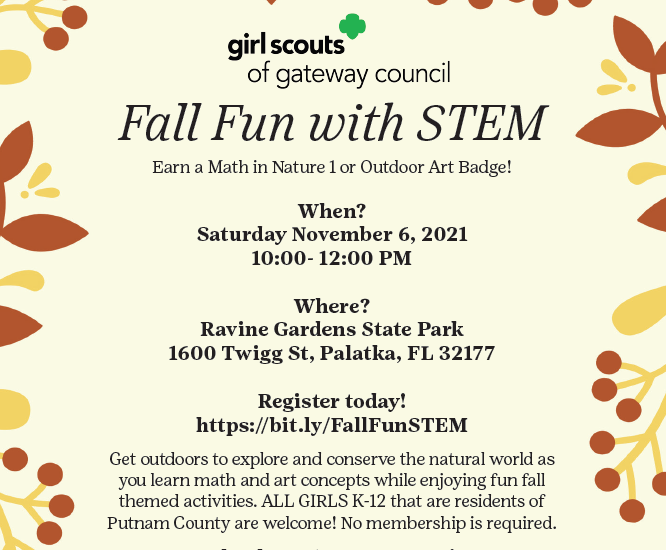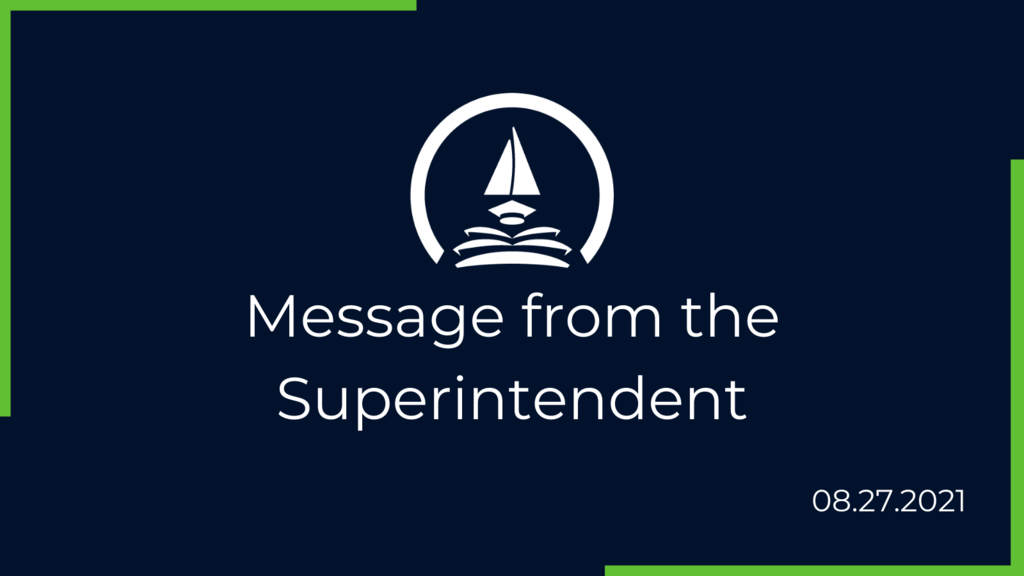 It's National Teacher Appreciation Week! Thank you to our Putnam County teachers for the incredible work they do! #ProudtobePCSD

THANK YOU to our amazing Administrative Assistants, Secretaries, Clerks & all office staff who contribute so much to the Putnam County School District and who keep our offices/schools/departments running smoothly. We are so grateful for you! #ProudtobePCSD

Complete fun science activities, be entered in awesome prize drawings and learn how YOU can make a difference in STEM at this FREE Putnam County event hosted by Girl Scouts of Gateway Council! 🌎 Grades K-5: Saturday, April 24, 10:30 a.m. Eastern 👉 joingsgc.org/PutnamK5 🌎 Grades 6-12: Thursday, April 22, 6 p.m. Eastern 👉 joingsgc.org/Putnam612 Sponsored by Putnam County and Girls in Focus Today! #ProudtobePCSD

​The Bartram Trail Society is presenting its annual family educational festival at the riverfront and River Center in Palatka on Saturday, April 17th from 10AM-4PM. Journey through time with your St. Johns River Bartram Frolic "Passport to the Past"! #ProudtobePCSD

It's National Assistant Principals Week! We want to give a special shout out to our AMAZING Assistant Principals here in Putnam County. Thank you for everything you do to support our students, families, and staff! #ProudtobePCSD

PARENTAL SUPPORT GROUP Discussion Topics: Mental Health Around the Holidays Supporting Our Students in a COVID Learning Environment Information on Local Resources Question & Answer Your questions and concerns discussed in a safe environment Meeting Time: Monday 11/23/2020 @ 5:00PM Meeting Location:
https://chsfl.zoom.us/j/93127308308?pwd=b1NWY05hTWJJWVRxYzZDRlJDMkhHUT09#success
Zoom ID: 931 2730 8308 Password: 308621